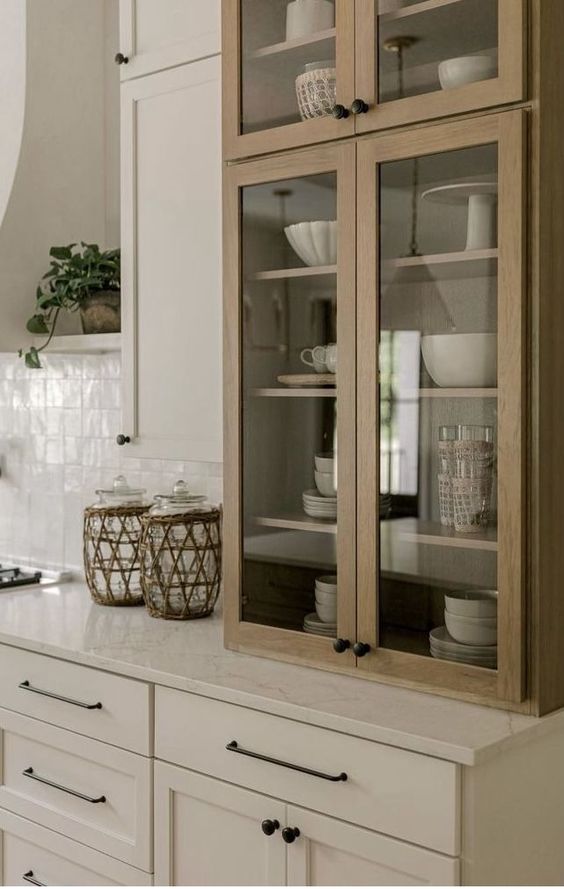 How to Choose The Right Custom Cabinetry Fabricator
January 30, 2023
The top Cabinet Manufacturer
January 31, 2023
Welcome to the world of custom cabinetry! Whether you're a homeowner remodeling your kitchen or looking for unique storage solutions, it's time to explore all that custom cabinetry has to offer. With an array of styles and materials, purchasing these unique cabinets can add character and functionality to any home or office space. Here we will discuss why custom cabinetry is worth the investment and how it can truly transform your space into something special.
Limitless Options: With custom cabinets, you're no longer confined by standard sizes and dimensions. Create the perfect storage solution for any odd space or need, all while expressing your personality through design. Working with a custom cabinet shop also allows you to coordinate other architectural trim in your kitchen or home.
Quality: If you're looking for kitchen cabinets that are made of high-quality materials and construction, then custom cabinets are the way to go. Custom cabinet shops can provide you with cabinets made from locally sourced, sustainable, or reclaimed wood. And if you prefer a more Euro-Tech style simplicity highlighted by metal finishes and opaque glass, they can accommodate that too. With custom cabinets, everything is built to order and finished at the same time so you know the wood grains will match, colors will be true, and all finishes will be uniform.
Looks: The level of care and attention to detail that goes into each custom-made cabinet is unmatched by anything else on the market. You are effectively employing artists who take pride in their work, and each piece reflects that. Not to mention, these cabinets will last for many years or even generations – similar to how fine furniture pieces from the past have held up over time. Plus. when you go with custom cabinetry, these will be fabricated according to your style and needs. So, you´ll be choosing the type of cabinet, the design, the color, the style, and of course, the sizes!
Special Storage: Install a floor-to-ceiling cabinet to store silver, or a glass-front cabinet to display an antique cast iron cooking tools collection. Remove upper cabinets and replace them with free-standing armoires that hold china and serving pieces. Install a "between the studs" cabinet for spices; get drawers and pull-out, lift-up trays for small appliances installed throughout the kitchen; also vary counter heights to better accommodate special needs. Personalized cabinets cost more than cookie-cutter designs, but the result is a beautiful and unique kitchen that will serve your family well for many years.
Custom cabinetry is a great way to improve your home. It can add value, style, and functionality. When you work with our experts here at Sunshine Cabinets & Woodworks, you'll be able to get the perfect custom cabinets for your home. We'll help you choose the right materials, finishes, and features. Give us a call or visit our store and let´s start discussing your custom cabinetry project today!
Quietly Luxurious Custom Cabinetry Solutions for Your Home
Custom-designed cabinets offer a unique way to bring design as well as function to any room. With the help of skilled craftsmen homeowners can construct custom cabinets that match their style and lifestyle. For kitchens or bathrooms, bedroom or living room , cabinets can be constructed to match any space.
No matter how big or tiny the room is, custom cabinets can be made to fit any size. Custom cabinets can provide the flexibility and versatility of the materials. From hardwoods to wood, metal and even glass, there's an array of choices homeowners can choose out of. No matter what style you're seeking, there's going to be something that's going to be a good fit. With the help of a skilled professional, you can rest assured your cabinets build will last for a long time of use.
Custom cabinets come with distinctive styles and features that are both beautiful but also useful. Intricate carvings with intricate inlays, hidden storage compartments and pull-out shelves You'll be able to make sure that the cabinets you choose to purchase are as sturdy as they look.
Additionally, with a wide range of finishes, ranging from natural to lacquered, you'll be able to create a distinctive design to your home. There are numerous ways in which custom cabinets can increase the beauty and functionality of any room. With the help of a skilled craftsman you can create an appearance that lasts for several decades to enjoy by generations of your household.
If it's for your kitchen, bathroom or bedroom, custom cabinetry can enhance the value of the home you live in. With unique style and design that are custom-made, cabinets are the perfect method to bring style and practicality.
Sunshine Cabinets in Delta, BC is a family-owned business that has been offering custom cabinetry solutions to our clients since 1998. We are satisfied with our craftsmanship and use the latest technology to provide elegant design solutions that can be adapted to any space. Our skilled team of craftsmen and designers will ensure that every job is completed within the timeframe and within budget.
We provide customized cabinets for kitchens, bathrooms and also workplaces in homes. No matter whether you're wanting to go in the traditional way or something more modern our craftsmen will help you create the perfect layout to fit your house.
From custom-made mouldings and finishes to storage and hardware We provide everything you need to help you build the dream home of your dreams the reality.
How to Choose The Right Custom Cabinetry Fabricator