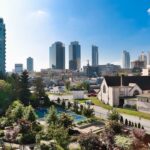 Burnaby: The Dynamic Urban Heart of British Columbia
November 6, 2015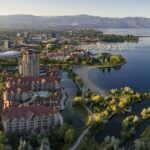 Kelowna, BC: The Jewel of the Okanagan Valley
November 13, 2015
Discover Kelowna, a vibrant city nestled in the heart of British Columbia's wine country. Surrounded by pristine lakes, majestic mountains, and lush vineyards, Kelowna offers a unique blend of urban sophistication and natural beauty. This article explores the diverse attractions and lifestyle that make Kelowna an enchanting destination.
Exploring Kelowna Natural Wonders
Kelowna's is a haven for nature enthusiasts, boasting an array of outdoor activities set against breathtaking landscapes. From water sports to hiking, the city's natural offerings provide endless opportunities for adventure and relaxation.
Lake Okanagan: A Water Lover's Paradise
Lake Okanagan, the centerpiece of Kelowna, offers crystal-clear waters ideal for swimming, boating, and fishing. The lake's numerous beaches and waterfront parks are perfect spots for picnics and family outings.
Hiking and Biking Trails Galore
Kelowna's scenic trails cater to hikers and bikers of all levels. Trails like Knox Mountain Park offer panoramic views of the city and lake, while Myra Canyon trestles are a must-visit for cycling enthusiasts.
The Heartbeat of BC's Wine Country
As the gateway to British Columbia's renowned wine region, Kelowna's is a must-visit destination for wine lovers. The city's vineyards and wineries are known for their exceptional wines and picturesque settings.
World-Class Wineries and Vineyards
Kelowna's wineries offer a range of experiences from wine tasting and vineyard tours to gourmet dining. Wineries like Mission Hill and Quails' Gate are not only celebrated for their wines but also their stunning architecture and lake views.
The Flavor of Local Produce
The region's fertile soils yield a bounty of fresh produce. Seasonal farmers' markets and orchard tours provide a taste of the local flavors and a glimpse into Kelowna's agricultural heritage.
Cultural and Urban Experiences in Kelowna
Kelowna's urban landscape is as diverse as its natural one, with a rich cultural scene, bustling downtown, and an array of culinary experiences.
A Thriving Arts and Cultural Scene
The city's cultural fabric is woven with galleries, theaters, and museums. The Kelowna Art Gallery and the Rotary Centre for the Arts are hubs for art lovers, while live music and festivals add to the city's vibrant atmosphere.
Culinary Delights and Downtown Charm
Downtown Kelowna is a blend of boutique shops, restaurants, and cafes. The culinary scene offers everything from farm-to-table eateries to international cuisine, showcasing the flavors of the Okanagan Valley.
Living the Kelowna Lifestyle
Kelowna's lifestyle is a blend of relaxed Okanagan charm and urban convenience, making it an attractive destination for visitors and residents alike.
A Community Connected to Nature
Kelowna's community is deeply connected to its natural surroundings, fostering a lifestyle that values outdoor recreation, sustainability, and wellness.
An Ideal Destination for All Seasons
With its mild climate, Kelowna is a year-round destination. Summers are perfect for water activities and winery visits, while winters offer skiing and snowboarding at nearby Big White Ski Resort.
Kelowna Enduring Allure
Kelowna, BC, is more than just a city; it's an experience. Its unique combination of natural beauty, cultural richness, and vibrant urban life makes it a destination that captures the hearts of all who visit. Whether you're seeking adventure, relaxation, or a taste of the finest wines, Kelowna promises an unforgettable experience.
Read more: