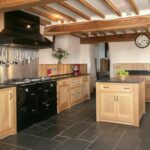 The Mastery of a Cabinetry Artisan: Crafting Elegance in Wood
November 13, 2023
Cabinetry Artisan: The Confluence of Skill, Design, and Wood
November 13, 2023
In the realm of woodworking, the cabinet maker stands as a symbol of creativity, precision, and enduring quality. This exploration into the world of the cabinetry artisan's unveils the meticulous process of creating bespoke cabinetry, the fusion of traditional craftsmanship with modern innovation, and the enduring value of custom-made woodwork.
The Essence of Cabinetry Artisan
Cabinetry artisanship is a profession that transcends mere construction; it's an art form that combines architectural precision with creative design. The cabinetry artisan's meticulously crafts pieces that are not only functional but also embody the aesthetic vision of their clients.
History and Tradition in Cabinetry Artisan
The roots of cabinetry artisanship are steeped in history, with techniques and styles passed down through generations. From the ornate designs of the Victorian era to the minimalist lines of contemporary styles, these artisans have evolved their craft while maintaining a deep respect for its traditions.
The Cabinetry Artisan Process: From Vision to Creation
The creation of a piece of custom cabinetry is a journey from conceptual design to the final product. This process highlights the artisan's skill in transforming wood into functional art.
Designing with Precision and Passion
The process begins with understanding the client's vision and space. The artisan meticulously plans the design, considering both aesthetic appeal and functionality. This stage involves choosing the right materials, textures, and finishes to bring the client's vision to life.
Masterful Crafting and Assembly
Using a blend of traditional handcrafting techniques and modern tools, the cabinetry artisan's carefully constructs each component. This stage is where their attention to detail and precision comes to the forefront, ensuring that every joint, edge, and finish is executed flawlessly.
Innovations in Cabinetry Artisan
While deeply rooted in traditional methods, modern cabinetry artisans also embrace technological advancements and contemporary design trends to enhance their craft.
Integrating Modern Techniques and Materials
Today's cabinetry artisans use a variety of materials, including sustainable and exotic woods, and incorporate modern machinery like CNC routers for precision cutting and detailed work. This integration allows for complex designs and innovative solutions that were not possible in the past.
Contemporary Design and Sustainability
Contemporary design trends influence the artisan's work, with a focus on clean lines, functionality, and minimalism. Additionally, there's an increasing emphasis on sustainability, with artisans opting for eco-friendly materials and practices, reflecting a commitment to environmental stewardship.
The Lasting Impact of Cabinetry Artisan
The work of a cabinetry artisan's extends beyond the creation of a functional piece; it's about crafting a legacy that enhances and personalizes living spaces.
Cabinetry as Functional Art
Each piece created by a cabinetry artisan is unique, reflecting the personality and lifestyle of the client. These pieces stand as functional art, bringing beauty and character to homes and spaces.
A Legacy of Quality and Craftsmanship
The legacy of a cabinet maker lies in the quality and craftsmanship of their work. These bespoke pieces are not just furniture; they are heirlooms, destined to be appreciated and valued for generations, symbolizing the timeless beauty and durability of expertly crafted woodwork.
Read more:
Cabinetry Artisan: The Confluence of Skill, Design, and Wood
The Mastery of a Cabinetry Artisan: Crafting Elegance in Wood