Cabinetry Artisan: The Confluence of Skill, Design, and Wood
November 13, 2023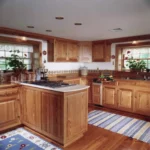 Exploring the Craftsmanship of a Cabinet Maker
November 17, 2023
Dive into the world of a cabinet maker, where each cut and curve is a testament to a time-honored craft. This in-depth look explores the skills, creativity, and dedication that go into making bespoke cabinetry – an art form that beautifully melds functionality with aesthetic splendor.
Understanding the Role of a Cabinetry Artisan
At the intersection of art and utility, cabinetry artisans create pieces that are both functional and artistically expressive. Their work is a blend of traditional techniques and modern innovation, resulting in timeless creations that enhance any living space.
From Tradition to Innovation
The journey of cabinetry making has evolved significantly over the years. Today's artisans respect traditional methods while embracing modern techniques and materials, striking a balance between historical craftsmanship and contemporary design.
The Significance of Material Selection
Choosing the right materials is crucial in cabinetry making. Artisans must consider not only the aesthetic qualities but also the durability and functionality of various woods and finishes to create pieces that stand the test of time.
The Cabinetry Artisan Process: Crafting Custom Cabinetry
Creating custom cabinetry is a detailed process that starts with a vision and culminates in a functional piece of art. Each step, from design to installation, is carried out with precision and care.
Design and Planning: The Blueprint of Cabinetry Artisan
The first step is the design phase, where artisans work closely with clients to understand their needs and aesthetic preferences. This collaborative approach ensures that the final piece not only fits the space perfectly but also reflects the client's personal style.
Crafting and Assembly: The Heart of Cabinetry Artisan
Artisans skillfully transform raw materials into elegant cabinetry. This phase requires meticulous attention to detail, expert craftsmanship, and a deep understanding of woodworking techniques to ensure quality and durability.
Modern Cabinetry Artisan: Blending Old and New
While rooted in tradition, cabinetry artisans continually adapt to the changing landscape of design and technology, ensuring their craft remains relevant and innovative.
Embracing Contemporary Design Trends
Today's cabinetry artisans stay abreast of current design trends, incorporating new styles and techniques to meet the evolving tastes of clients. This adaptability allows them to create pieces that are both modern and timeless.
Technological Advancements in Cabinetry Artisan
The integration of advanced tools and technology, like CNC machines and 3D software, enhances the precision and capabilities of artisans, allowing for more intricate and complex designs.
The Enduring Impact of Cabinetry Artisan
The work of a cabinetry artisan's goes beyond mere construction; it's about creating pieces that resonate with personal stories and elevate the everyday experience of living spaces.
Crafting Personalized Experiences
Every piece crafted by a cabinetry artisan is tailored to the client's lifestyle and preferences, making each creation unique and personal. This customization transforms ordinary spaces into reflections of individual identity and style.
Legacy of Craftsmanship and Quality
The legacy of a cabinet maker is not just in the beauty of their creations but also in their enduring quality. These bespoke pieces become heirlooms, cherished for generations and standing as a testament to the artisan's skill and dedication.
Read more:
Cabinetry Artisan: The Confluence of Skill, Design, and Wood