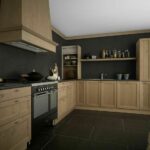 Unveiling the Craft of Bespoke Cabinetry
November 6, 2023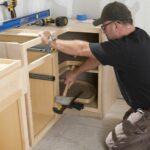 The Art of Cabinet Maker: Precision, Skill, and Creativity
November 13, 2023
Discover the world of Custom cabinetry, an arena where expert craftsmanship meets the ultimate in personalization to create not just furniture, but pieces of art that resonate with the style and sensibilities of homeowners. This journey into the nuanced process of bespoke cabinetry will reveal how it stands apart in the modern home design landscape.
What is Bespoke Cabinetry?
Bespoke cabinetry's is the creation of custom cabinetry that is designed and built to meet the specific requirements of a space and the preferences of a homeowner. It is a celebration of individuality, catering to those who seek exclusivity in their living environment.
Defining Bespoke Cabinetry: Beyond Standard
Bespoke cabinets are not found in standard sizes or finishes; they are conceived from a unique design vision and executed with precision for each client.
The Bespoke Cabinetry Process: A Symphony of Steps
The process begins with a concept and travels through design, material selection, construction, and installation. Each phase is critical, ensuring the final product is as functional as it is beautiful.
Design Philosophy
The design philosophy behind bespoke cabinetry's is that every aspect of the home can be a reflection of the owner's personality and taste. It is a harmonious blend of form and function, where the beauty of the design is matched by practicality.
Customization at Its Core
Customization is the cornerstone of bespoke cabinetry's , offering solutions that mass-produced cabinets simply cannot.
Endless Possibilities
The possibilities with bespoke cabinetry's are endless, limited only by imagination. Every color, texture, and material can be tailored to the client's desire.
Material Selection
Selecting the right materials is a vital part of the bespoke cabinetry's process. The materials chosen not only define the aesthetic but also determine the longevity and durability of the cabinetry.
Premium Quality Woods
From oak to walnut, bespoke cabinetry's often utilizes premium woods, providing a foundation of quality and elegance.
Sustainability and Craftsmanship
Many bespoke cabinet makers now emphasize sustainability, opting for materials that are not only durable but also environmentally friendly.
Technology and Craftsmanship in Bespoke Cabinetry
The bespoke cabinetry's industry has embraced technology without sacrificing the traditional craftsmanship that is essential to its artistry.
Handcrafted Details
Despite technological advancements, the handcrafted details remain a hallmark of bespoke cabinetry's , bringing a personal touch that machines cannot replicate.
The Digital Edge
Modern software aids in designing intricate and precise cabinetry, ensuring that the finished product is exactly as envisioned.
The Bespoke Cabinetry Impact
Bespoke cabinetry's leaves a significant mark on a home, enhancing both its functionality and aesthetic appeal. It stands as a testament to personal taste and the importance of home as a sanctuary.
A Lasting Impression
Quality bespoke cabinetry's not only serves a practical purpose but also leaves a lasting impression on all who encounter it.
Investment in Craft
Investing in bespoke cabinetry means investing in something that will endure, both in style and structure, becoming a part of the home's legacy.
In conclusion,Custom cabinetry represents the zenith of personalized home design. It is an investment in quality, beauty, and functionality that enhances the home environment, making it uniquely yours. Whether you're embarking on a new build or renovating an existing space, bespoke cabinetry's is a testament to personal expression and the enduring value of skilled craftsmanship.
Read More: